Rent Medical Equipment in Arizona
Celebrate your health journey when you rent medical equipment with AZ MediQuip, Arizona's premier destination for medical equipment and supplies. Elevate your well-being by accessing our extensive rental fleet, showcasing the same high-quality products found in our renowned medical supply stores. Perfect for travel, post-surgery, or short-term needs, choose flexible weekly or monthly rental plans designed to meet your specific needs. Experience unparalleled service and support throughout your rental duration, complete with detailed setup instructions and expert guidance from our trained professionals. Boost your confidence and comfort in using rented medical equipment as our team ensures a seamless and empowering experience. Trust AZ MediQuip for a healthier tomorrow.
Our Rental Medical Equipment is Available by Pick Up or Delivery
We maintain our equipment to the highest standards, conducting regular maintenance and rigorous testing to guarantee optimal performance and reliability.

We adhere to the strictest cleanliness protocols, thoroughly cleaning and sanitizing all rental equipment.

White-glove delivery and set-up is available for all rental items.
Call to Book Your Rental
Call to speak with a team member who will help you secure your equipment, dates, and delivery or pick-up options.
Request More Information
If you have questions or want to speak with a team member, please click the button below and complete the form.
Rent Medical Equipment from AZ MediQuip
Renting a hospital bed provides a practical solution for various health-related scenarios. Whether recovering from surgery, managing a chronic illness, or caring for a loved one at home, a rented hospital bed offers comfort, convenience, and essential features like adjustable height and incline. These beds promote optimal rest and aid in easier mobility, making daily activities more manageable. With options for customization and delivery, renting a hospital bed provides a temporary, yet crucial, support system for individuals seeking comfort and assistance during their recovery journey.
Low Air Loss Hospital Bed Package: $330 Monthly; $150 Weekly

Premium Hospital Bed Package: $275 Monthly; $125 Weekly

Basic Hospital Bed Package: $220 Monthly; $100 Weekly

Heavy Duty Low Air Loss Hospital Bed Package: $750 Monthly; $250 Weekly

Heavy Duty Hospital Bed Package: $450 Monthly; $150 Weekly

Overbed Table: $105 Monthly; $35 Weekly
Packages include sheets, mattresses, overbed table, and washable underpad. Individual hospital beds and mattresses available for rent as well.
Renting a CPAP or BPAP machine is a smart choice for those dealing with sleep apnea or respiratory issues. Whether you're awaiting a permanent device, need a temporary solution, or want to assess the effectiveness before committing to a purchase, renting provides flexibility. It's an ideal option for travel, ensuring uninterrupted sleep therapy away from home. Renting a CPAP or BPAP machine ensures you receive crucial respiratory support tailored to your unique circumstances.
ResMed AirSense 10 Auto CPAP: $225 Monthly; $75 Weekly

ResMed Aircurve Auto BPAP: $375 Monthly; $125 Weekly
Water chamber, hose, and mask sold separately.
Renting a home or portable oxygen concentrator offers flexibility and accessibility for individuals requiring supplemental oxygen. Ideal for short-term needs, travel, or those assessing long-term requirements, renting allows you to adapt to changing circumstances without the commitment of a purchase. It's a cost-effective solution, providing the necessary oxygen support. Enjoy the freedom to move about with a portable concentrator, ensuring a steady oxygen supply wherever you go. With rental options, you can address your oxygen needs promptly and efficiently, tailoring the solution to your lifestyle and duration of use.
Inogen One G5 Portable Oxygen Concentrator: $600 Monthly; $200 Weekly

Respironics SimplyGo Portable Oxygen Concentrator: $600 Monthly; $200 Weekly

Phillips EverFlo Home Oxygen Concentrator: $225 Monthly; $75 Weekly
Renting a knee scooter is a practical choice for those navigating temporary mobility challenges due to injuries or surgeries. Offering a comfortable and efficient alternative to crutches, a knee scooter promotes increased independence and a more active lifestyle during the recovery period. Renting is cost-effective for short-term use. It's an ideal solution for individuals seeking a convenient, maneuverable, and easy-to-use mobility aid that allows them to maintain their daily activities while providing optimal support for the injured leg.
All-Terrain Knee Scooter: $150 Monthly; $50 Weekly

Standard Knee Scooter: $120 Monthly; $40 Weekly
Renting a wheelchair is a practical solution for temporary mobility challenges, ensuring comfort and independence during recovery or travel. When choosing between a power chair, standard wheelchair, or transport chair, consider your specific needs. Power chairs offer electric convenience for extended use, standard wheelchairs provide manual control and versatility, while transport chairs are lightweight and easily portable. For heavier individuals, heavy-duty wheelchairs offer robust support. Renting allows you to tailor your choice to the duration and nature of your mobility requirements, ensuring you have the right chair to enhance your daily life.
Power Wheelchair (Power Chair): $300 Monthly; $100 Weekly

Reclining Wheelchair: $150 Monthly; $50 Weekly

Transport Chair: $105 Monthly; $35 Weekly

Lightweight Wheelchair: $120 Monthly; $40 Weekly

Heavy Duty Wheelchair: $180 Monthly; $60 Weekly
Renting a mobility scooter provides a convenient solution for individuals seeking temporary assistance in navigating daily activities. When choosing between three and four-wheel options, consider factors like maneuverability and stability. Three-wheel scooters are agile and excel in tight spaces, ideal for indoor use. Four-wheel scooters offer enhanced stability and are better suited for outdoor terrain. Renting allows you to experiment with both options and determine which suits your lifestyle and needs best. Enjoy the freedom and independence to move comfortably with a rented mobility scooter, tailored to your specific mobility requirements.
4-Wheel Mobility Scooter: $225 Monthly; $75 Weekly

3-Wheel Mobility Scooter: $225 Monthly; $75 Weekly
Renting a walker provides essential support for those with temporary mobility challenges, aiding in stability and independence during recovery. When deciding between a two or four-wheel walker, consider your specific needs. Two-wheel walkers can be useful if you need some help bearing weight as you move. Four-wheel walkers allow the user to move with more command, in more comfort, and with increased speed. Four-wheel walkers—also known as rollators—are equipped with a seat for resting. Renting allows you to try both options, ensuring you choose the walker that aligns with your mobility requirements. Experience enhanced confidence and convenience as you navigate your daily routine with a rented walker tailored to your unique situation.
4-Wheel Walker (Rollator): $105 Monthly; $35 Weekly

2-Wheel Walker (Front-Wheel Walker): $50 Monthly; $35 Weekly
Renting a power lift chair provides invaluable assistance for those seeking enhanced comfort and mobility. Opting for an infinite position chair over a standard one offers versatile recline options, allowing users to find their optimal seating position for relaxation, reading, or sleeping. This flexibility caters to individual comfort preferences and therapeutic needs. Whether recovering from surgery, managing a health condition, or simply desiring a customizable seating experience, renting a power lift chair ensures both convenience and personalized comfort during your recovery or daily routine.
Infinite Position Zero-Gravity Power Lift Chair: $450 Monthly; $150 Weekly

Standard Power Lift Chair: $300 Monthly; $100 Weekly

Heavy Duty Power Lift Chair: $450 Monthly; $150 Weekly
Renting a Knee CPM (Continuous Passive Motion) or Cold Therapy Machine can be  smart choices for post-surgery recovery. A Knee CPM machine aids in restoring joint mobility and reducing stiffness, promoting a faster and smoother rehabilitation process. Cold Therapy Machines provide targeted relief by alleviating pain, swelling, and inflammation. Renting allows individuals to access these specialized devices ensuring optimal recovery. Experience the benefits of advanced rehabilitation technology through the convenience and cost-effectiveness of renting a Knee CPM or Cold Therapy Machine during your recovery journey.
Knee CPM: $375 Monthly; $125 Weekly

Cold Therapy Machine: $105 Monthly; $35 Weekly
Renting a patient lift is a compassionate and practical choice for caregivers and medical facilities. These devices provide crucial assistance in safely transferring individuals with limited mobility, ensuring both their comfort and the caregiver's safety. Ideal for short-term needs or during recovery, renting a patient lift offers a cost-effective solution. Enhance the caregiving experience, promote patient comfort, and simplify mobility challenges by choosing to rent a patient lift, facilitating smooth and secure transfers with ease.
Electric Hoyer Patient Lift: $375 Monthly; $125 Weekly

Electric Sit-to-Stand Patient Lift: $375 Monthly; $125 Weekly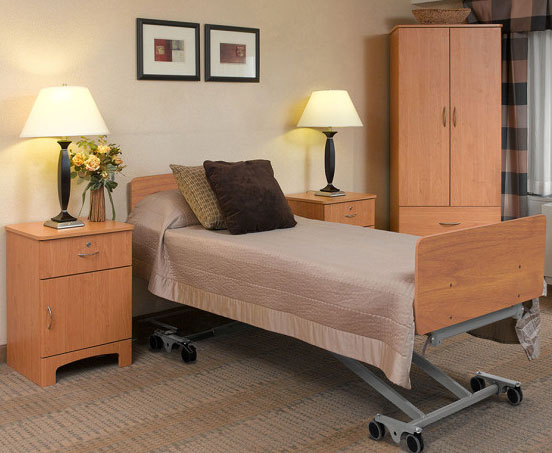 Andrew was great finding an adjustable hospital bed for my father and delivering it right when we needed it in two days. He was very helpful in answering questions on a number of issues regarding equipment. He spent quality time over the phone with me, and was patient. I would definitely use this company again because of my experience with Andrew, and the prompt delivery. My dad is still in skilled nursing and hasn't tried out the bed yet, but we were glad to be able to rent something so it will be waiting for him when he is discharged.